FOR SALE:
Custom Airbrushed Flamed
1986 Corvette w/ $3,641.17 engine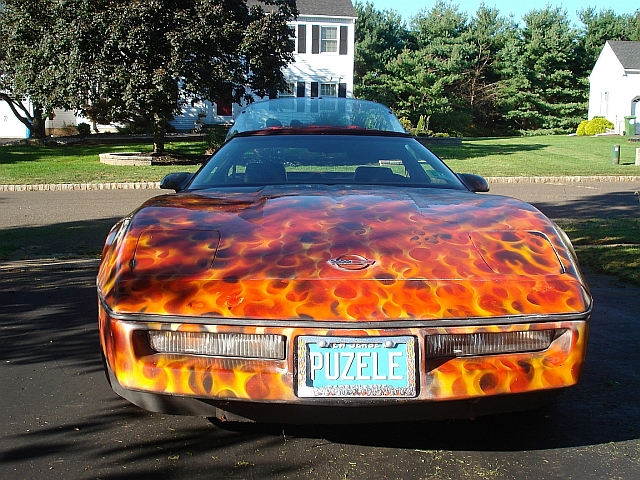 PRICE: $5,000 or BEST OFFER
I will also consider trades (possibly).
I'm primarily interested in Corvettes and/or Custom Vans.
* If you are reading this, the Corvette is still for sale in NJ *


I've owned the car for 13+ years.

On 10/19/2009, I spent $3,641.17 and had Bridgewater Motorworks (supposedly the best in the business) install a Jasper Factory Re-manufactured Corvette Engine with 3 year/100,000 mile warranty. It runs great. Old motor had: 115,696 miles on it. Car now reads about: 130,000 miles = about 15,000 miles on new engine.

I get about 20 mpg -- probably because I've always driven it like an old lady/pampered it. The reason why I replaced the engine was because the head gasket supposedly got damaged because of low coolant a few years ago -- doh! I wanted the car to run PERFECT so I spent the money and had the entire engine replaced.

Unfortunately, the flame airbrushing/paint has issues in some areas. I tried to take some detailed photos.
Additionally, the AC needs a fix so I'm thinking of selling my Vette. Mechanically, it is sound but ascetically I'm not happy -- the paint isn't holding up and it seems silly for me to drive a CORVETTE without having a HUGE smile on my face. Plus, I've had the car for a LOT of years so I'm thinking of finally making a change.

If you are SERIOUS about buying it, feel free to contact me to schedule an appointment to take a look. Rather than get inundated with BS phone calls, I think email is the best way to start.

Note: If you are only willing to pay very little, no sense of wasting your time or mine. If I don't get enough for it, I'm just going to make it my daily driver. Its oddly enough more reliable than my Saturn car that I also own.

VIN: 1G1YY0782G5118855

Additional notes:

* 12 disc pioneer CD installed professionally in the rear compartment. Also have remote control for radio and 12 disc cd player. I also spent $$$ having a different radio installed so I'm not forced to use the stock vette radio.

* Remote Security, Remote Car Starter & Remote Power Locks & Remote Windows Professionally installed (disabled because it would drain the battery after sitting in the garage for weeks at a time)

* Musical Horn (plays numerous different songs including the Godfather theme)

* Flamed Seat covers that light up (removed -- but I have brand new ones in the package) & Flamed floor mats in front/back that also light up. You turn on a switch and they light up! (seen at night)

* New front tires & new radiator installed on/about 7/1/2013

* I also have a second glass tinted roof -- but it cracked so I put the red roof on it. Most times, I just keep the roof off.. but since I'm not starting to make this my daily driver, I kept the red roof on (in case it starts to rain).


I live in Hillsborough, NJ. My zip code is 08844. Please mapquest it before contacting me. I'm amazed to receive offers/etc only to find the person don't want to make the drive.
You can contact me via email by clicking here: